Air Ambulance Service for Flights to and from Tampa, St. Petersburg & Clearwater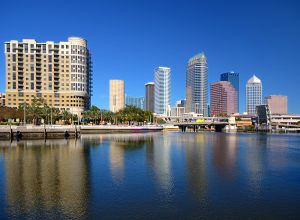 For medical air transportation, Air Ambulance Worldwide is the company to call. We serve many cities across the globe, but we are particularly proud to call the Tampa, Florida, area home and serve our neighbors. If you are responsible for transferring a loved one or a patient under your care to or from the Tampa Bay area, we can assure you that the trip will be safe, smooth, and under the supervision of highly trained and compassionate medical personnel.
Whether the patient we're serving simply needs assistance while traveling with a medical condition or requires quick transport for an emergent health situation, we are sure to have a service that meets his or her needs. Our comprehensive air ambulance and medical escort services include:
Medical escort and transport – The patient will a have one of our medical staff members travel with them on a commercial flight. The attendant will make the patient is fully comfortable during the transfer and ensure that basics needs, such as oxygen, medication, and hygiene are met. Senior citizens who need medical assistance during travel to or from Tampa, FL, often benefit from this service.
Air ambulance –The patient will have at least two members of a medical team accompany them on the transfer. The service also includes finding a medical facility in Tampa, St. Petersburg, or another nearby community to receive the patient upon arrival, and we can assist with insurance dealings as well.
Stretcher transport – Patients on stretchers will be transported on commercial flights (internationally only) and escorted by a one of our highly trained medical professionals. We will make the necessary arrangements with the airline for the stretcher and any medical equipment the patient needs.
Call us toll free at 877-922-9675 or e-mail us today to learn more about Air Ambulance Worldwide. We are proud to offer medical escort, air ambulance, and stretcher services to patients in Tampa, other areas throughout Florida, and the world.