Air Ambulance Dominican Republic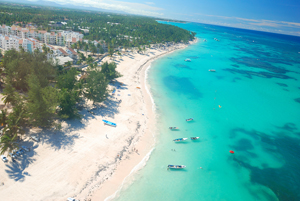 If you or your loved one needs an air ambulance to or from the Dominican Republic, Air Ambulance Worldwide is the company to call. We help all types of patients from around the world get to wherever they need to go as safely and as comfortably as possible.
When you call our 24-hour dispatch and information center, one of our knowledgeable flight coordinators will discuss your options with you and walk you through the process step-by-step. Our focus on customer satisfaction, our unblemished safety record, and our adherence to stringent medical protocol have earned us the prestigious EURAMI accreditation as well as a Gold rating from ARGUS.
Whether you've had an accident and need to return to the U.S. for medical treatment or suffer an injury or illness while travelling in the Dominican Republic, Air Ambulance Worldwide is here to assist.
Medical Flights Dominican Republic
Our team includes seasoned, fulltime pilots and skilled medical professionals. The aircraft in our fleet are specially equipped to function as flying intensive care units and are maintained in accordance with the most stringent safety standards. In addition:
We provide fully trained, experienced doctors and nurses who specialize in emergency care, geriatric care, obstetrics, respiratory, pediatric care.
Our full-time, seasoned pilots are veterans in the industry
We obtain a full medical report on the patient prior to transfer to ensure there is no interruption in medical care
We manage all logistics of your medical flight from start to finish to make your trip easy to book and tailored to the specific condition of the patient
Air Ambulance Worldwide also has specialized, dedicated medical personnel who can provide medical escort services on commercial flights.
Medical Evacuation from Punta Cana, Santo Domingo, Puerto Plata, La Romana and Samana
If you or a loved one have been injured while hiking, surfing, diving or fishing or otherwise need a medevac from the Dominican Republic, we can help. Our private medical jets can fly into smaller airfields to better facilitate a medevac from remote and resort areas.
Air Ambulance Worldwide can work with your insurance provider for them to cover as much of the medical flight as possible. Depending on your needs and the situation, they can discuss each option with you, each cost, and the best way to get the most competitive price. Call today to discuss your medical flight or commercial medical escort.
Bed-to-Bed care for Dominican Republic medical flights
In addition to safe, fast flights, Air Ambulance Worldwide provides complete bedside-to-bedside service, which means we will:
Pick you up from your location
Provide ground transportation to our private aircraft
Fly you to your destination
Transport you to a medical facility, home, or other location
Make sure you are comfortable and well cared for before we leave
In some cases, our patients can have at least one loved one accompany them at no extra charge, which helps relieve stress during the trip.
Dominican Republic Air Ambulance Costs Every medical flight is individually quoted, and costs depend on a number of factors, but we will work hard to find the most efficient and cost effective solution for your needs. Our dedicated Dominican Republic Medical Flight Specialists will work with you and your specific situation to coordinate your medevac flight as well as connecting or transfer flights and generate a quote that is as competitive as possible. Medical Flight Coordination Dominican Republic
Contact Air Ambulance Worldwide today if you have any questions regarding our air transportation services, or to speak with a flight coordinator about scheduling a medical flight to or from the Dominican Republic. Our team is here for you 24/7.