Air Ambulance & Medical Air Transport Services to & from Charlotte, NC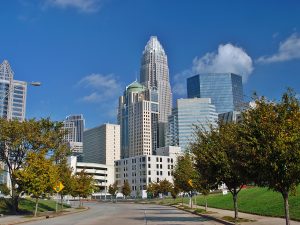 Air Ambulance Worldwide offers residents of and visitors to Charlotte, North Carolina, services that are ideal for anyone who must fly a long distance but requires specialized medical care during the trip. We offer top-of-the-line emergency and non-emergency medical air transport services equipped with an experienced crew of medical professionals, seasoned pilots, and attentive flight coordinators.
If you or someone in your care needs to travel to or from Charlotte, we have an assortment of air ambulance services available. These include:
Air ambulance – Our comprehensive bed-to-bed service includes a team of medical professionals to accompany the patient throughout the journey, ground transportation to and from the receiving facility, and help with insurance claims.
Medical escort – Bed-to-bed service with a member of the medical staff accompanying the patient as he or she makes a commercial flight; the patient's basic needs are attended to, including hygiene, oxygen, medication, and overall comfort and well-being.
Stretchers on international flights – We'll arrange for a stretcher and any other required medical equipment aboard the aircraft, plus medical attention throughout the trip, and ground transportation.
Whether you are stuck overseas with an unexpected medical condition and need to get back to Charlotte, N.C., for treatment, or you are injured during a business trip to Charlotte and need help getting back home, Air Ambulance Worldwide stands ready to assist you. Our safety record is impeccable, our medical staff is top-notch and our support people are the best in the business. We are available 24/7 for a toll-free phone call at 877-922-9675 or through e-mail.