When is an Air Ambulance Used?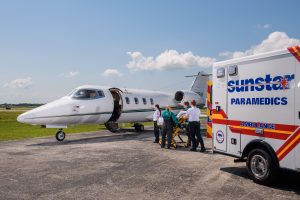 An air ambulance is used for a variety of purposes that require an individual to be transported from one location to another through the air while receiving medical attention throughout the flight. For instance, if a person is injured in a different country while on vacation, they might want to travel back to their home country to receive medical care. However, if their condition requires constant medical attention, they can't take a regular airplane, making an air ambulance the perfect option. Another example would be if an infant is sick and needs to go to a specialized hospital to seek treatment, an air ambulance would be a perfect option because they will receive personalized care from trained medical professionals throughout the entire flight, allowing the parents to rest easy knowing that their child will receive exceptional care during the transport.
Air Ambulance Worldwide Provides Safe Transportation to or from Almost Anywhere in the World
If you or a loved one ever find yourselves in a situation where you need to take an air ambulance, Air Ambulance Worldwide is the company to turn to. We are dedicated to providing our patients with exceptional care so that they can get to where they need to as safely and comfortably as possible. When you decide to work with us, you can feel confident in your decision because we:
Have a flawless flight record, meaning no incidents or accidents have ever occurred on any of our flights
Have top-of-the-line planes that are equipped with the same medical equipment you would find in an ICU
Have a medical staff that has a minimum of 5 years of experience working in an ICU
Travel to anywhere in the world besides North Korea, so you can count on us being able to get you to where you need to go
For more information about the services we are able to provide to our patients, contact Air Ambulance Worldwide today.