Professional, Rapid Medevac Services Provided by Air Ambulance Worldwide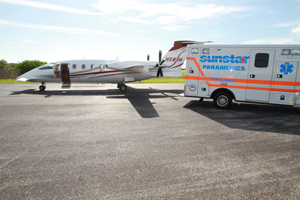 When you're in need of rapid Medevac services, put your trust in the highly trained and well-regarded team at Air Ambulance Worldwide. We have extensive experience offering medical evacuation services across the globe and can get you, your loved ones, or your patient just about anywhere they need to be. Our team is available 24 hours a day and in most cases we can begin the medical transport process in as little as two hours.
At Air Ambulance Worldwide, one of the things that makes our medevac services so successful is that we have a world class medevac team on staff. When you put your trust in our company, you'll work with:
Highly trained pilots with tens of thousands of hours of flight time
Medical professionals who each have a minimum of five years of experience working in either the ICU or CCU
Staff who can provide specialized care depending on the patient's needs
Nurses who have work visas throughout the world and are fluent in several languages
We know how important it is to you that medevac service is provided safely, and staffed by professionals who can provide the continuation of care that the patient requires. With Air Ambulance Worldwide, you can enjoy peace of mind that we are equipped to meet your needs.
In addition to private medevac services in one of our various planes, we also can provide medical escort services and commercial stretcher medical flights to patients who have been medically cleared to fly on a commercial airliner.
To learn more about our various medevac services and other medical transport services, contact the team at Air Ambulance Worldwide at 877-922-9675 or 727-781-1198. We'll be glad to answer all of your questions and to work with you to get you or someone under your care where they need to go quickly, comfortably, and safely.