Caring, Attentive Flight Escort Services for Ailing Individuals Traveling to or from Hamburg, Germany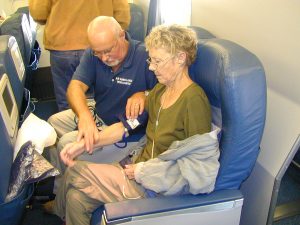 Air Ambulance Worldwide is an excellent flight escort provider if you're in need of medical transportation services when traveling to or from Hamburg, Germany. That's because we have many years of experience transporting and escorting patients from nearly every country and continent on the globe, while also providing them with expert medical care. Whether you, a loved one, or a patient in your care needs private transportation or medical flight escort assistance, Air Ambulance stands at the ready 24/7 to help.
There are many reasons why patients traveling to or from Hamburg, Germany, can rely on us to help with the transportation process. Here are just a few:
We have an unblemished safety record, which has earned us an ARGUS Gold safety rating and an accreditation from the European Aeromedical Institute (EURAMI).
Our highly trained medical flight escort team has a minimum of five years of ICU/CCU experience to ensure they can handle both emergency and non-emergency care.
Our flight coordinators will plan the transportation process for you, including  arranging for ground transportation to and from the aircraft and transferring your medical records.
We even have neonatal and pediatric specialists on staff who are trained and equipped to deliver babies mid-air if needed. In fact, our staff can handle virtually any emergency that may occur, so you can trust that you or the person you care about is in good hands.
To learn more about our medical flight escort services to or from Hamburg, Germany, contact Air Ambulance Worldwide today.