Private & Commercial Medical Escort Services for Patients Traveling to or from Myrtle Beach, SC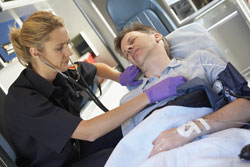 If you're in need of private or commercial medical escort services for travel to or from Myrtle Beach, South Carolina, call on the medical transportation experts at Air Ambulance Worldwide. We have faithfully served patients around the world since 2004, and are proud that we have never had an incident or accident in that time. We are one of only a handful of companies that has been accredited by EURAMI, and have a gold rating from ARGUS International, so you can trust that we will provide safe, trustworthy medical escort services for you, your loved one, or a patient in your care.
We offer several levels of medical transportation assistance for those who need to travel to or from Myrtle Beach, SC, depending on the patient's needs. Our services include:
Air ambulance – We use our specially equipped aircraft to transport the patient, with at least two members of our medical care team attending to the patient's needs. We will pick the patient up at his or her current location, provide transport to the aircraft for easy loading, and then provide ground transportation from the destination airport to the receiving facility.
Commercial medical escort – This is also a bedside-to-bedside service, but the patient is boarded on a commercial flight. A member of our team will accompany the patient and provide whatever medical, hygiene, or comfort care he or she needs.
Commercial stretcher escort – This service is for patients who are traveling internationally and need to remain on a stretcher during their flight. We will make the logistical arrangements with the airline, and accompany the patient during the flight.
For more information on our private and commercial medical escort services to or from Myrtle Beach, SC, contact Air Ambulance Worldwide today by calling 727-781-1198 or 877-922-9675.