Commercial Medical Escort Services in Turks and Caicos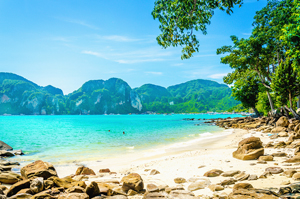 If you're in need of commercial medical services as you prepare to travel to or from Turks and Caicos, put your trust in a company that has extensive experience providing medical transport services worldwide: Air Ambulance Worldwide. Our team is standing by 24 hours a day to take your call and help you coordinate travel on a commercial airline if you have been medically cleared to fly but require assistance. Whether you are healthy enough to fly with standard accommodations or you require special modifications for your medical equipment, we can help meet your needs.
The commercial medical escort services that we offer in and around Turks and Caicos are designed to be as easy on you and your family as possible. This is a bed-to-bed service, which means we can meet you at your home, hospital, or other facility and ensure that you get to the airport safely. Once at the airport our team will handle all logistics and assist with:
Ticketing so you don't have to wait in line to speak with a gate agent
Navigating the security screening process with medical equipment like oxygen tanks, wheelchairs, and stretchers
Securing priority boarding to give you plenty of time to get in your seat
And any medical or hygiene considerations that may arise before the flight
Once in the air, our commercial medical escort team is singularly committed to ensuring a safe and pleasant flight for the patient. Each medical staff member that we employ has a minimum of five years of ICU or CCU experience, which helps ensure we're equipped to handle any healthcare considerations that may arise while in the air. This continuity of care from departure to arrival is extremely important to us. Then, when we land, we'll make sure that you get to your destination, wherever it may be.
To learn more about the commercial medical escort services that we offer in Turks and Caicos, contact us by calling 877-922-9675 or 727-781-1198. You're also welcome to inquire about our private medical transport services that we also offer.