Can Patients Travel on a Flight?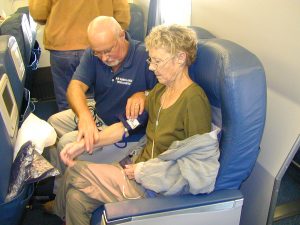 If you're sick or injured and need to travel a long distance to go to a hospital, air travel is likely the most convenient way for you to get there. But you might be concerned that you won't be allowed on a flight due to your current medical situation and may be wondering, can patients travel on a flight? Well, that depends on a number of factors, such as how sick or injured you are, if you're contagious, and if you will be comfortable in such a confined space. If you have a fever over 100 degrees Fahrenheit or have a contagious disease, it's best not to travel on a commercial flight. Even if you try, the captain of the plan can prevent you from boarding if he determines it is not safe for the other passengers. Also, if you are injured, depending on the severity, it may not be a good idea for you to fly. That's because with such tight quarters, your mobility will be limited and you may find yourself in a very uncomfortable position.
Turn to Air Ambulance Worldwide When You Need Medical Air Transport
Whether you are ill or injured, flying to or from a hospital can be a real inconvenience. That's where Air Ambulance Worldwide comes in. We have our own fleet of private jets and can transport you to almost any hospital in the world. What's more, your safety is our biggest concern and we go above and beyond to ensure you are well taken care of throughout your flight. In fact, to ensure your safety, we:
Equip all of our planes with the same medical equipment you would find in an ICU
Staff our planes with medical professionals who have a minimum of 5 years working in an ICU
Only hire experienced and trustworthy pilots
Contact Us Today
To learn more about the medical air transport services we have available to patients traveling to or from almost anywhere in the world, contact the experts at Air Ambulance Worldwide today.