Air Ambulance and Medical Transportation Services to and from Prague, Czech Republic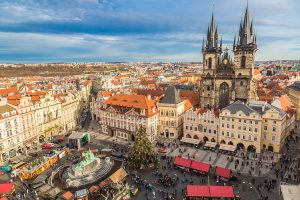 If you or a loved one is in need of air ambulance transportation or other medical escort services to or from Prague, Czech Republic, put your trust in the dedicated professionals at Air Ambulance Worldwide. As a leading mobile intensive care provider in the industry, we are dedicated to providing only the highest quality services to our patients. Our elite team of medical personnel includes extensively trained nurses, doctors, paramedics, respiratory therapists, and other specialists who are committed to providing the safest and most comfortable travel experience possible.
At Air Ambulance Worldwide, we are capable of handling a wide range of medical conditions that range from the most basic medical needs to critical care. To best meet the requirements of each patient's unique medical situation, we offer three types of service to and from Prague, Czech Republic. These include:
Commercial stretcher services – If a patient requires a stretcher on an international commercial flight, we can make all necessary arrangements with the airline to ensure that the equipment is installed and ready upon the patient's arrival. This service also includes a nurse or doctor who will tend to the patient throughout the trip and provide any necessary medical assistance.
Air ambulance flights – If you or a patient in your care has been injured or fallen ill and is unable to travel commercially, we can escort the patient in a private medical charter to or from anywhere in the world. This is a full bedside-to-bedside service that includes a team of medical personnel who will be with the patient from the initial pick up all the way to the final destination.
Medical escorts – For patients in need of assistance on a commercial flight, Air Ambulance Worldwide can provide a trained nurse to accompany the patient in first class who will supply medical equipment such as wheelchairs and oxygen tanks as well as tend to basic hygiene care and medication administration.
For more information on the medical air transportation services we offer to and from Prague, Czech Republic, contact Air Ambulance Worldwide today.