Air Ambulance Service for Travel to & from Florida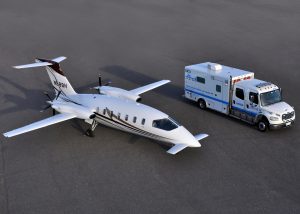 Air Ambulance Worldwide is the company that patients who need safe and reliable medical transport to and from Florida – and nearly anywhere else in the world – rely on. We're the premier provider of bedside-to-bedside service for men, women, and children who are medically compromised and unable to travel without aid. Whether you, someone you love, or someone in your care is flying to Florida to consult with a medical specialist, is flying home after a vacation, or is traveling for any other reason, Air Ambulance Worldwide is the company to trust.
Our comprehensive medical transport services include:
Air ambulance – Private flight for patients who require special attention
Medical escort – Commercial flight with a medical attendant
Stretcher service – International commercial flight for patients who need to remain prone
The medical staff members we employ for these services are all highly trained, with a minimum of five years ICU/CCU experience. The pilots we enlist for our private flights are seasoned aviators with a minimum of 2,500 hours flown and 15 years of experience.
Our experience aside, you can trust that you'll enjoy a safe trip when you use our services. As demonstrated by our ARGUS Gold safety rating, we have a perfect flight safety record and so does Air GATO Enterprises, the affiliate that oversees management of our aircraft. Additionally, Air Ambulance Worldwide carries accreditation by EURAMI, an organization that only accredits mobile air service providers who maintain extraordinary medical protocols and exemplary safety records.
Contact Air Ambulance Worldwide by calling 727-781-1198 or 877-922-9675 today. We're proud to offer outstanding medical transportation services to Florida and most every other airport around the world.