Air Ambulance Worldwide Assists Patients Traveling to or from Arizona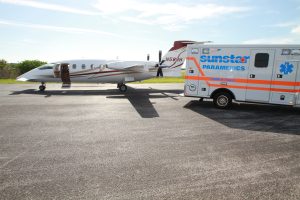 Air Ambulance Worldwide provides superior levels of medical transport care for patients who need to travel to or from Arizona. We serve nearly every community on earth, providing air transport services to men, women, and children who are too medically compromised to travel on their own. Our safety record is unblemished, even after years of helping patients travel to receive specialized medical attention, return home after being injured on vacation, or move out of necessity to be closer to family and friends.
Whatever the need, patients know they can trust Air Ambulance Worldwide to deliver the best care available when traveling to or from AZ. We provide several levels of service, depending on the patient's needs, including:
Air ambulance – This service involves transporting the patient on one of our specially equipped private aircraft, flown by a seasoned pilot and staffed by medical personnel with years of experience in caring for even the most critically ill men, women, and children.
Medical escort – We can accompany a patient while he or she flies commercially, arranging for medical clearance, booking the tickets, and ensuring all other logistics are handled before the flight, as well as providing top-notch medical care during the flight to ensure the patient arrives safely.
Commercial stretcher service – This is a specialized service for patients who must remain prone during an international flight. We will make the necessary arrangements with the airline and provide all medical, hygiene, and comfort care for the patient during the process.
For more information on the various services we provide, or to make arrangements for medical transportation assistance to or from AZ, call Air Ambulance worldwide today at 727-781-1198 or 877-922-9675.