Air Ambulance Offers Transport Services to and from St. Paul, MN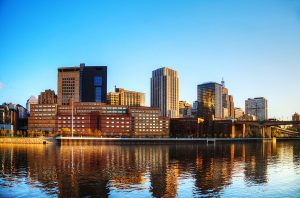 Air Ambulance Worldwide is proud to serve patients in need of transport to or from St. Paul or any other community in Minnesota. Our unsurpassed safety record and attention to even the smallest details have made us one of the most sought after air ambulance services across the globe. Regardless of where you or your loved one is traveling from, or needing to go, we can provide the medical support to ease any travel concerns you might have.
We offer our air ambulance services for anyone needing specialized medical care while they travel into and out of the St. Paul, MN, area, and even can help you or your loved one get settled into their destination facility. This bed-to-bed service is ideal for any patient struggling with:
Cancer
A head and/or spine injury
Pulmonary issues
Gastrointestinal concerns
In fact, our air ambulance service is the perfect way to go if your or your loved one's medical condition prohibits comfortable commercial air travel. Our skilled medical team will locate and make arrangements with your destination facility, accompany you or your loved one, attend to any medical needs during the trip, and even help with insurance concerns, if needed. When you travel with Air Ambulance Worldwide, you can rest easy, knowing that you or your loved one is in good hands.
We know that some patients don't require such comprehensive medical attention during transport, which is why we also offer medical personnel to accompany a patient who flies commercially, attending to any hygiene, oxygen, medication, and comfort needs that arise during the trip. We can even help with commercial stretcher service (on international flights only), making special arrangements with your commercial airline to accommodate the patient's stretcher and any required medical equipment.
Contact us for more information on our air ambulance and other services for St. Paul, MN, and all area communities, by calling us toll-free at 877-922-9675, or by e-mailing us directly any time, day or night.