Air Ambulance Service Provided in and around Puerto Rico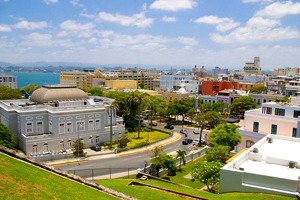 If you require immediate air ambulance service to transport you to, from, or within Puerto Rico, put your trust in Air Ambulance Worldwide. We have extensive experience transporting patients throughout the globe, and our highly trained team will ensure you, your loved one, or your patient arrives at their destination safely and on time. Our phones are staffed 24 hours a day, seven days a week, and in many cases we can begin to coordinate an air ambulance in as little as two hours, providing you with the peace of mind that we will respond when you need us most.
Air Ambulance Worldwide begins and ends with the quality of our team. Here are a few examples of the staff can handle your Puerto Rico travel:
Seasoned pilots with thousands of hours of airtime who are trained to operate a variety of aircraft and have an impeccable safety record.
Medical staff who are required to have a minimum of five years of ICU/CCU experience in order to work with our patients
Specialists who can provide the individual care that our patients require
Nurse staff who have the visas required to work in countless countries and who are fluent in several languages
At Air Ambulance Worldwide, we want to provide our patients with the medical transport services they need, when they need them. We have a fleet of state-of-the-art medical aircraft that can offer private air transport, and we also offer medical escort services for passengers who have been medically cleared to fly commercially. No matter the specific health concerns and medical needs of our patients, we can provide accommodations.
If you are interested in learning more about securing an air ambulance in or around Puerto Rico, contact Air Ambulance Worldwide today at 877-922-9675 or 727-781-1198. We'll gladly walk you through your options and help you coordinate the transportation that you require.