Air Ambulance and Medical Air Transport to or from Melbourne, Australia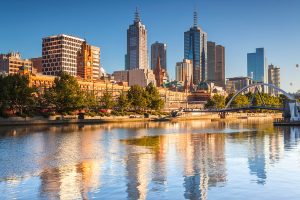 If you are injured or become ill while on vacation in Melbourne, Australia, or if you are from there and find yourself unable to fly home for medical reasons, turn to Air Ambulance Worldwide. Our bed-to-bed medical air transport services are available for any destination in the world, including every city in Australia. Our two biggest priorities − superb medical care and complete safety − are supported by our experienced and caring team of medical personnel, seasoned pilots and flight coordinators.
The three services we have available for medical transport to or from Melbourne include:
Air ambulance − emergency or non-emergency air transportation that includes every aspect of a medical transfer, such as acquiring all medical documents, scheduling ground transportation, arranging for appropriate medical personnel for the flight, maintaining an open line of communication for all interested parties and more
Stretcher flights − arranging with an airline for a flight (international only) with extra room for a stretcher and all other necessary medical equipment
Medical escort − assigning an appropriately trained companion to accompany a patient who is not able to comfortably fly alone; service includes assistance with ground transportation, luggage checking and retrieving, boarding and deplaning, wheel chair access, and any medical treatment necessary during the trip
No matter what bed-to-bed service you need from Air Ambulance during your trip to or from Melbourne, Australia, you can rely on the experience and proven competence of our team. Our medical personnel have at least five years of ICU and/or CCU experience and our pilots have an average of 14,000 flight hours. To learn more, or to schedule a medical air transport with us, call our toll free number, 877-922-9675, or e-mail our staff. We are available 24 hours a day, seven days a week.