Air Ambulance Worldwide Serves Patients in Kansas City, MO & Throughout the World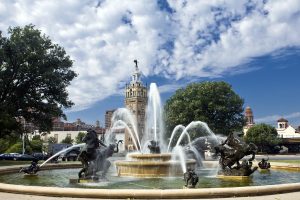 If you're in need of medical transportation services of patients travelling to or from Kansas City, Missouri, Air Ambulance Worldwide is the company to trust. The medical staff that we provide for all patients are highly trained and licensed physicians, nurses, respiratory therapists, and others who have a minimum of five years of experience in emergency medicine training, including ICU and CCU experience. Plus, they are fully trained in aviation physiology, so they understand how the human body reacts to high altitudes. Whether you need to fly aboard a specially equipped private air ambulance, or want a medical escort aboard a commercial flight, we have the training and equipment to make sure you arrive at your destination without incident.
So, what sets us apart from other medical transportation services? Here are just some of the benefits of hiring Air Ambulance Worldwide when you need to travel to or from Kansas City, MO:
We have a perfect safety rating.
Our pilots are all seasoned professionals, with a minimum of 2,500 flight hours logged.
We have a variety of aircraft available, all of which are fully equipped to handle any contingency during transit.
Our medical staff will accompany the patient from his or her current bed all the way to the receiving facility.
We will ensure that the patient's medical records arrive safely and on time so there's no interruption in medical care.
For more information on our medical air transport services to or from Kansas City, MO, contact Air Ambulance at 727-781-1198 or 877-922-9675.