Air Ambulance and Medical Air Transport Services for Jerusalem, Israel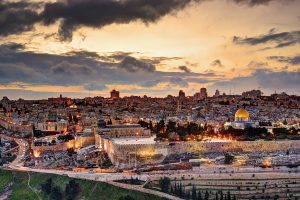 If you, a loved one or a patient under your care needs to fly in safety and comfort to or from Jerusalem, Israel, turn to Air Ambulance Worldwide. Our experienced and caring team of medical personnel, pilots and flight coordinators are committed to making sure that every aspect of your medical air transport runs smoothly and hassle-free.
Air Ambulance Worldwide provides bed-to-bed services to or from Jerusalem and other cities around the world. Our service area includes every continent except Antarctica, encompassing even some destinations where other air ambulance companies do not fly, such as Havana, Cuba. Our aircraft are maintained to the most exacting standards, and our perfect safety record has earned us an ARGUS Gold safety record. Our medical personnel includes physicians, physician assistants, anesthesiologists, nurses and specialists who are assigned to your medical flight based on your needs. Every member of our medical team has extensive intensive care and/or critical care experience.
Our three primary services include:
Air ambulance flights − emergency and non-emergency transportation for domestic and international travelers
Stretcher flights − arrangements for stretcher space and other medical equipment on international flights
Medical escort − non-emergency aid on international and domestic flights for patients who are unable to comfortably fly alone or require start-to-finish assistance and attention
To learn more about our services, or to schedule a flight to or from Jerusalem or any other city in Israel, please call toll-free, 877-922-9675 or e-mail our staff. We are available 24 hours a day, seven days a week.