Turn to Air Ambulance Worldwide for Medical Transportation Services to and from Jacksonville, FL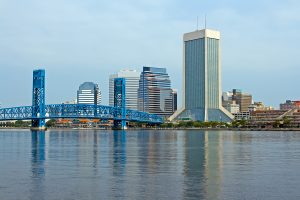 When you turn to Air Ambulance Worldwide for medical transportation services to or from Jacksonville, Florida, or any other city in the world, our comprehensive customer care begins long before your flight takes off. As a leading mobile intensive care provider in the industry, we take the comfort and overall satisfaction of our customers seriously by maintaining flawless safety records and adhering to stringent medical protocol. In fact, our superior dedication to exceptional service has earned us a EURAMI accreditation as well as a Gold star rating with ARGUS.
When you first contact Air Ambulance Worldwide, we will obtain as much information about you or the patient in your care who will be traveling with us. From there, we will suggest the most appropriate service based on the condition of the patient and then will begin the planning process. When you work with Air Ambulance Worldwide, you will be provided one point-of-contact throughout the entire duration of the trip. Plus, we have insurance specialists who work diligently to obtain any possible reimbursement for the covered patient.
Relying on Air Ambulance Worldwide means that your care will be in the hands of some of the most dedicated and experienced personnel in the industry for your travel to or from Jacksonville, FL. Our highly trained team includes:
Seasoned, full-time pilots with a minimum of 2,500 hours flown as well as unblemished air transfer records
Experienced medical staff who all have a minimum of five years of ICU/CCU experience
Neonatal and pediatric specialists
Respiratory therapists
A medical director who is also a licensed DO (Doctor of Osteopathic Medicine)
To learn more about the number of medical transportation services we provide to and from Jacksonville, FL, call Air Ambulance Worldwide today.