For Medical Flight Services to or from Edmonton, Call Air Ambulance Worldwide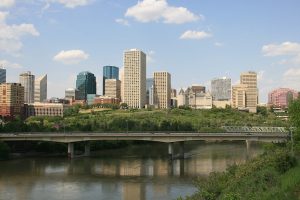 If you, a loved one, or a patient in your care is in need of medical transportation, Air Ambulance Worldwide can provide unmatched intensive care services to and from Edmonton, or any other city in Canada. As one of the leading mobile emergency transportation providers in the industry, we help customers all over the world travel to and from their destinations in a safe, smooth, and comfortable manner. Our dedicated staff understands that urgent care travel can be stressful and difficult to plan for, which is why we oversee every aspect of your trip from start to finish.
Air Ambulance Worldwide provides three different services to accommodate the specific needs of patients. These services include air ambulances with multiple aircraft for maximum cost efficiency, commercial medical escorts for those unable to fly commercially on their own, and commercial stretchers for patients in need of stretcher services during an international flight.
Whether you are looking for a comprehensive air ambulance service for travel to or from Edmonton, or would simply like a nurse to accompany a loved one on their flight home, we have the solution that is best suited to your specific requirements. When you turn to Air Ambulance Worldwide for your medical transportation, you can rest assured that you or your loved one's care is in the right hands because:
We have an unblemished safety record as well as accreditations from EURAMI and ARGUS.
Each member of our elite medical team has at least five years of ICU/CCU experience and is trained to address a variety of medical situations that may arise.
Each patient is accompanied by a team of at least two medical personnel based on his or her specific needs throughout the duration of an air ambulance
We provide you with one point-of-contact who will guide you through every step and handle all logistics of your journey.
To learn more about our services or to schedule medical transportation to and from Edmonton, or anywhere else in the world, contact Air Ambulance Worldwide today.