Comfortable and Safe Air Ambulance Services to and from Edinburgh and other cities in Scotland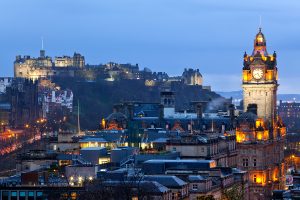 If you are in need of air ambulance transportation to or from Edinburgh, or any other city in Scotland, for yourself or a patient in your care, you can rely on Air Ambulance Worldwide for comfortable and safe medical transfer services. As a leader in the mobile intensive care industry, our flawless safety record has earned us a EURAMI certification as well as a Gold rating with ARGUS. These prestigious recognitions are given only to those companies like us who adhere to the most stringent safety and medical protocols and who show unwavering dedication to customer comfort and overall satisfaction.
When you turn to us for your medical transportation needs to or from Edinburgh, we first perform a complete analysis of the patient's condition to determine the most appropriate next step. From there, we will recommend a service that will provide a safe and smooth transfer to the patient's destination. The services we offer include:
Air ambulance transport – For patients who are critically injured or ill and cannot fly commercially, we provide comprehensive ambulance flights that include full bedside-to-bedside assistance, at least two extensively trained team members who accompany the patient throughout the journey, and all necessary ground transportation.
Commercial medical escorts – If the patient is unable to travel alone on a commercial flight, one of our Air Ambulance nurses can accompany the patient in first class and provide wheelchair and oxygen equipment as well as basic hygiene and medication administration.
Commercial stretchers – This service is for those who require stretcher equipment on an international commercial flight. Air Ambulance Worldwide can make the necessary arrangements with the airline to ensure that all medical clearances are accounted for and the equipment is ready upon the patient's arrival. Additionally, we will provide a nurse or doctor to accompany the patient throughout the trip.
No matter what particular medical transportation requirements you or someone in your care might have, we are here 24 hours a day, seven days a week to help plan and provide the safest and most comfortable means of travel. For more information on the critical care transfer services we offer to and from Edinburgh, or anywhere else in the world, contact Air Ambulance Worldwide today.