Air Ambulance Service to or from Colorado Springs, CO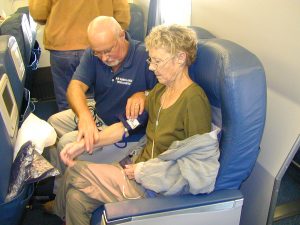 Air Ambulance Worldwide provides medical air transport service for ailing men, women, and children travelling to or from Colorado Springs, Colorado, and virtually everywhere else on the planet. Our superior levels of medical transport care have resulted in an unblemished safety record and scores of clients who were free to rest during their transportation experience, rather than fretting over the many details of such an event. We handle all of the logistics from beginning to end, which is just one of many reasons why so many patients and their caregivers have chosen Air Ambulance as the company to trust to handle their transportation needs when they are too frail to do so themselves.
We provide three levels of service for patients travelling to or from Colorado Springs, CO:
Air ambulance – We will accompany patients from their current location until they are settled into their new home or facility, providing ground transportation to and from our specially equipped aircraft. We employ seasoned pilots and staff our aircraft with highly trained medical providers to ensure the best in patient care and comfort.
Commercial medical escort – This is also a bedside-to-bedside service, but instead of flying aboard our private aircraft, we accompany the patient on a commercial flight, providing for his or her medical, hygiene, and comfort needs along the way.
Commercial stretcher service – For patients who must remain horizontal during an international flight, we will arrange with the airline to accommodate a stretcher and provide a privacy curtain. Our personnel will accompany the patient and ensure his or her needs are met.
For more information on our various services, call Air Ambulance Worldwide at 727-781-1198 or 877-922-9675.