For Elite Medical Assistance Flying to or from Calgary, Call Air Ambulance Worldwide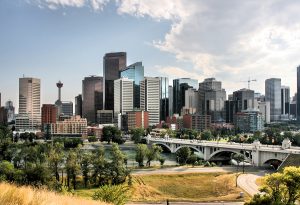 Air Ambulance Worldwide is the company that loved ones and case managers call when air transportation is needed to or from Calgary or any other city in Canada. We are a mobile intensive care provider that services the world by transporting individuals in medically compromised conditions in fully equipped airplanes. You could consider our aircrafts "flying ICUs" because they are outfitted for any medical emergency possible. In fact, our professional medical staff could even perform a baby delivery mid-air if needed.
Air Ambulance Worldwide provides a number of medical air transportation services to help meet the different individual needs for those traveling to or from Calgary, including:
Commercial medical escorts – If the patient is too ill or hurt to travel on a commercial flight alone, one of our highly trained nurses can accompany them every step of the way.
Air ambulances – This service transports the patient in one of our medically equipped aircrafts where he or she will be accompanied by at least two of our medical professionals for the entire length of the trip. Our air ambulance flights provide full bedside-to-bedside care, so you can rest assured knowing that you or your loved one's journey is accounted for down to the very last detail by one of our caring and knowledgeable flight coordinators.
Commercial stretchers – If a patient is in need of a stretcher on an international flight, we can make all arrangements for the necessary equipment as well as the accompaniment of an Air Ambulance Worldwide doctor or nurse for the duration of the trip.
No matter what service you, your loved one, or a patient under your care needs, our extensive experience and knowledge in the medical air transportation industry ensures that the patient's care is in the right hands. To learn more about how we can assist you when traveling to or from Calgary, or any other city in Canada, contact Air Ambulance Worldwide today.