Turn to Air Ambulance Worldwide for Medical Transportation Services to and from Amsterdam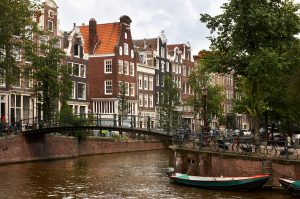 When patients need care they can't get from typical commercial travel, Air Ambulance Worldwide is the first place they turn for medical transportation to and from Amsterdam. Our elite team is comprised of seasoned pilots, nurses, doctors, respiratory therapists, and other trained personnel who have made medical transportation their passion and who are committed to providing you and your loved ones with the safest, most comfortable journey possible. But don't just take our word for it – our flawless safety records and dedication to providing the highest quality air ambulance services available have earned us a EURAMI accreditation as well as a Gold rating from ARGUS.
As a leading medical air transportation company, Air Ambulance Worldwide provides different levels of service to suit the specific requirements of the patient for travel to and from Amsterdam or another city in Holland. These services include:
Air ambulance transportation: If you, a loved one, or a patient in your care is in need of critical transportation and is unable to fly commercially, our air ambulance service provides an all-inclusive travel plan that takes the patient from one destination to another with bedside-to-bedside care.
Commercial stretcher: If the patient is stretcher-bound and flying on an international commercial flight, we can take care of all prior arrangements to ensure the equipment is ready when the patient arrives at the airport. One of our nurses or doctors can also accompany the patient for the duration of the flight to assist in any medical care.
Commercial escort: If the patient is unable to fly alone commercially, a trained nurse can travel with the patient throughout the entire length of the trip. This includes arranging any ground transportation if needed, providing wheelchair and oxygen service, and performing basic hygiene care and medication administration.
No matter what time of day or night you find yourself in need of medical transportation, we are here to help. To learn more about the services we provide to and from Amsterdam, call Air Ambulance Worldwide today.